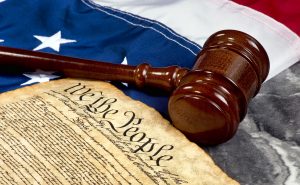 On April 17, 2020, Governor Lamont signed Executive Order 7BB which required the use of cloth face coverings in public when close contact is unavoidable starting April 20, 2020.  The order remains in effect as of this writing.  Anyone watching the news or venturing out into the public will note that the mask issue is highly divisive.  People are gathering in state capitals all over the nation to protest stay at home orders and similar mask restrictions.
There are been many violent confrontations in retail stores when shoppers attempted to enter without maks throughout the United States, including one case where a security guard was shot by someone who was not wearing a mask and who refused to leave.  The issue of having to wear a mask is a highly emotional and volatile issue.
People Should Wear a Mask to Protect Others 
It is the writer's opinion that people should follow the Governor's order which follows CDC guidance and wear a mask when in public to help prevent the transmission of COVID-19.  While apparently, the wearing of a cloth face-covering does not protect the wearer against catching COVID-19, it does reduce the spread of droplets and can help slow down the rate of transmission to others.  Since so many individuals may be asymptomatic and not even realize that they have COVID-19 the use of cloth face masks is a useful tool to help slow the spread of COVID-19 when people need to venture out into public and can't avoid coming into close contact with others.
Think about the heroic medical workers who are putting their lives at risk to save lives every day and do your part to help prevent the spread of the virus.
You Can be Arrested for Not Wearing a Mask in Public but the Police Are Not Likely to Make Many Arrests
A violation of the Governor's order is a crime in Connecticut for which you could be issued a misdemeanor summons pursuant to C.G.S. § 19a-131a.  However, this particular executive order is written in a very vague manner which would make criminal enforcement difficult.  Some of the areas of ambiguity in this order are the language that discusses the requirement to wear a mask if you are:
"unable to or does not mainatin a safe social distance of approximately six feet away from every other person shall cover their mouth and nose with a mask or cloth face covering."
Therefore, in order to arrest someone for violating the order, the police would need to prove that the accused not only failed to wear a mask but also did not maintain a "safe social distance" from other people.  This is a very hard standard to gauge unless someone is standing right next to another person or hugging them.
Also, the statute includes a broad exception for anyone who claims a medical condition that would render the use of a mask "contrary to his or her heath.   If someone refuses to wear a mask on account of a medical condition they are not required to produce any documentation to prove that they suffer from any medical condition.
It would be next to impossible for the police to enforce a statute that anyone could claim an exemption to the order by saying that they have anxiety about wearing masks or PTSD. In fact, someone being questioned by police would not even have to specify any medical condition that prevents the use of a mask only that they have a medical condition.
As a result, and due to the nature of the order being more of an aspirational directive than a criminal prohibition there have not been any reported arrests as of this writing for anyone who failed to wear a mask.   Although numerous suspects have been arrested to spitting at others, coughing on other people and threatening to expose others to COVID-19.
Most of the Problems with Mask Use Will Occur in Private Stores and Places 
The big problem with mask use is when someone who refuses to wear a mask tries to enter an establishment that is requiring people to wear a mask to enter.  Most supermarkets, for example, require all shoppers to wear a mask to enter.  If someone who is not wearing a mask refuses to comply with the requests of a store owner to leave their store they could be arrested for trespassing.  In many situations, violent confrontations have ensued and everyone involved could be arrested for disorderly conduct or breach of the peace.
For example, one man in Brooklyn, CT was denied service at a McDonalds for refusing to wear a mask.  He responded by throwing a rock through the window of the store.   He was arrested for breach of peace and criminal mischief but was not cited for violation of the public health order.
It seems that for those who refuse to wear a mask there is a lot of anger and frustration they are feeling about the mask requirement, and when others try to force them to wear a mask sometimes violent outbursts occur.
Try to Remain Calm and Non-Confrontational 
No matter which side of the mask debate you fall on, try to avoid confrontation.  Everyone is under a lot of additional pressure and stress after spending the last two months with society shut down.  If you find yourself in an argument with someone turn around and walk the other way.  It is just not worth it to get arrested and have a criminal case pending.
Wherever you are, stay safe, remain healthy, and always know your legal rights.
We are always here to serve you 24/7