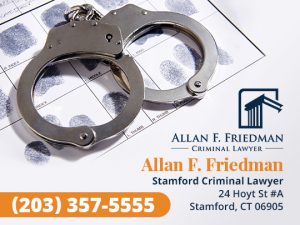 Covid-19 has resulted in significant shifts in mobility.  People are working at home, bars and restaurants are closed and social gatherings are canceled for the time being.   Law enforcement has also focused on having minimal contact with the general public and prioritized important cases involving violence. As a result, traffic enforcement stops are down 95% and DUI arrests are also down significantly across the state. Domestic violence reports are up significantly as well as residential and commercial burglary and theft.
Although our courts remain closed, our office remains open and we are here to help you if you have any legal questions.   We expect that the criminal courts will reopen sometime in June although, perhaps using virtual technology if we are lucky.
Arrests for Violation of Public Health Emergency – C.G.S. § 19a-131a 
There have not been many arrests of business owners for violating the governor's emergency orders which is a class A misdemeanor punishable by up to a year in jail.  A New Cannan man was arrested for serving drinks at the Dry Dock bay in Norwalk in violation of the order. The owner of Beauty Land spa in New London was also arrested for operating his salon in violation of the order.
Honestly, we all have to have empathy for a business owner who is trying to feed his or her family, run an honest business, and try to keep their business open.  I think that these people should not be arrested.  If their customers want to go to these businesses then let them.   It seems somewhat ironic that we are releasing convicted convicts from our overcrowded prisons to prevent the spread of this illness and at the same time-wasting police resources to arrest honest business owners trying to put food on their dinner table.
Arrests for Spitting with COVID-19 
It seems that the most common COVID-19 related criminal act is spitting at someone and then claiming that you have the virus.  There have been a lot of these arrests.  Perhaps the stress of the lockdown is getting to people?
In the past, many spitters would claim that they had HIV.  COVID-19 seems to be the new biological agent of choice for these actors.  This is an ill-advised course of behavior.  Since COVID-19 is a biological agent that can cause death, these individuals could be charged with threatening in the first degree in violation of C.G.S. § 53a-61aa which is a Class D felony.   Many police departments have taken a more conservative approach and charged these spitters or in some cases coughers with breach of the peace in the second degree in violation of C.G.S. § 53a-181.  If the actor is actually COVID-19 positive then they could be charged with reckless engagement in the second-degree violation of C.G.S. § 53a-64.  Ironically, even a Connecticut doctor was recently arrested for breach of the peace for coughing and hugging nurses while he was working at a hospital.
Arrests for COVID-19 Fraud
The state and the federal government has already started a joint task force to combat rampant COVID-19 fraud.  In every crisis that occurs bad actors come out of the woodwork to exploit others and the COVID-19 seems to have really quickly ramped up fraud schemes.  Anyone caught engaging in COVID-19 related fraud is going to need to retain an experienced criminal defense lawyer as state's attorneys and judges are going to throw the book at you.  Some examples
A 7/11 owner in New London arrested for selling fake COVID-19 test kits
Two convicted felons were arrested for filing for $544,000 in CARES act PPP loans for non-existent companies
Domestic Violence Arrests 
Domestic violence arrests remain constant. It seems that being locked in the same house 24/7 with nowhere to go is a significant stress factor that is causing some people to get into more arguments.  Substance abuse is on the rise and in general economic stress and worry are contributing to domestic violence.
Domestic violence arrests are taken very seriously.  Even though after your original arraignment date your next court date may not be for several weeks that does not mean that the problem is going away.  Give us a call today to review defense options and get working on building an action plan to resolve the allegations against you.  While  COVID-19 may have brought many horrible things, one positive development is that our criminal courts are going to be overloaded with cases after having been shut down for nearly two months and they will be looking to move cases along.  This may be a great opportunity to obtain a favorable resolution for your case.
Stay healthy and safe!
We are here to help you 24/7
Allan