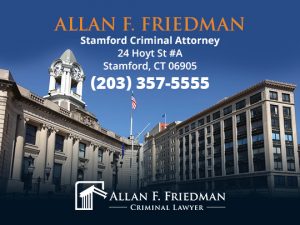 As everyone knows Governor Lamont shut down all large gatherings on March 20, 2020, in the State of Connecticut.  Accordingly, the Judicial Branch started to close courts and limit functions to only handle essential matters characterized as priority 1 business matters which include domestic violence arraignments, arraignments of people who are locked up overnight for an arraignment and emergency motions.
Stamford and Norwalk Courts are Closed 
The Stamford,  Norwalk, and Bridgeport G.A. criminal courts are both totally closed and all priority 1 matters are being handled at the Judicial District in Fairfield at Bridgeport.  If you are arrested during the COVID-19 emergency for a domestic violence matter give us a call and we will give you advice on the best procedure to handle your arraignment in Bridgeport and we can appear with you.
All Court Dates For April and May Have Been Continued 
If you had a court date for April or May you will be receiving a letter in the mail with a new court date sometime in June or July.  In the meantime, you can check the status of your case by looking up your case on the Judicial Branch web site. Please try and remain patient during this time. A lot of clients are frustrated by the delays and want to get their cases resolved.  The court system wants to keep everyone safe and reduce the opportunity for the possibility of the spread of COVID-19.
The Judicial Branch is Considering Virtual Court Options 
The judicial branch is considering alternatives to appearing in courts such as video appearances and telephone.  However, it seems that budgetary limitations, technological problems, and the ability for low-income litigants to have access to the internet are roadblocks to the implementation of these options at this time.  Other states have already started the court process using virtual options but Connecticut seems to lag behind.
We will Contact All of Our Clients In Late May About Court Dates 
Our plan is to await Governor Lamont's upcoming orders concerning the re-opening of the State and contact each and every client individually towards the end of May to advise you about your next court date.
If you have any questions about your court date or your case, we remain open to serve you and you can contact us at any time.
Stay healthy and together we will get through this!