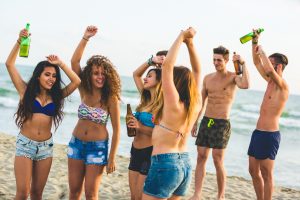 Picking up today's local newspaper I saw another high profile arrest of a New Canaan family who had hosted a High School graduation party in which an under aged teen guest had fallen backwards after drinking and sustained a head injury.  In this case the incident involved Jim Vos the CEO of a huge hedge fund advisory fund firm Aksia.  Vos was arrested after a party celebrating his daughter's graduation from the ulta posh private school St. George's in Newport Rhode Island where yearly tuition runs over $65,000.  Police responding to the injury report found extensive evidence of the consumption of alcohol by minors including empty beer and liquor bottles and "multiple areas on the patio and the lawn covered in vomit."   One thing that Vos did properly in this incident was when the New Canaan police arrived to investigate he "remained uncooperative" telling the investigating police officers that he was going to refuse to answer any questions. This is always my advice for anyone under Police investigation.  Remain silent unless your lawyer is present.
This is the second case in which a teen was injured at an under aged drinking party in a New Canaan home this summer.  In both cases, the parents were arrested along with the children who had hosted the party.  What lessons can we learn from these  incidents and how can you protect yourself from being arrested or facing a civil lawsuit from a teen gathering at your home?
The Dilemma Facing Today's Parents 
Being a parent in today's society is not an easy task.  Teens are used to getting things their way and it is often difficult to set boundaries and enforce rules for their behavior.  It seems like a never ending battle.  Teens have been drinking and using drugs for generations.  This is not a new trend.  What is new is that the laws have changed dramatically since we were teens and now there are serious criminal consequences for providing alcohol to minors and also for even permitting minors to be in the possession of alcohol upon your premises.  These laws are classified as "Social Hosting" or "House Party" laws.
Often Parents feel that it is better to be in control of the situation and be able to "supervise" what goes on knowing that the teens are going to be drinking one way or the other.   Parents often tell me that they felt it was a better idea to have the drinking going on at their home where they could maintain some control and make sure that no one attempted to drive away while intoxicated.  However, as well  intentioned as this plan may be, under Connecticut law it is illegal to permit minors to be in possession of alcohol upon your premises and also doing so could expose you to civil liability for any injury sustained for which your home owners's liability coverage may not cover you.
Social Media and the Challenge of Managing Teen Gatherings 
Not only have the laws changed but behaviors have changed as well with the advent of social media and uber. Parents have reported to me about small controlled gatherings suddenly exploding into a huge crowd which is beyond the capacity of their home and totally out of control in a matter of a few minuets.  What is going on is as word spreads of a teen aged drinking party these days it often "goes viral" and dozens of teens all over the region summon ubers and arrive in mass often without invitation.  The sudden influx of uninvited guests can result in conflicts, fights and disputes and calls to the Police which result in arrests.
Just as the teens are using smart phone technology to keep up to date on the latest parties, also the police are using the same technology to bust these parties and make arrests.  For example the  Trumbull Police has an anonymous TipsLine, teen drinking parties can be reported by texting "TRPD" and the details to 274637 (CRIMES), or by using the TipSubmit app.  That is right they have a app you can down load from the app store to report teen aged drinking parties.  Also, many local police departments have enlisted cab drivers who are driving the teens to and from these parties to call in reports to the Police.
The Criminal Law In Connecticut Concerning Underage Drinking Parties 
The Connecticut Legislature has passed a really tough "Social Hosting" or "House Party Law"  the statutory citation is Connecticut General Statutes Section 30-89a.   This is a serious statute and makes is a class A misdemeanor to
(1) either knowingly, recklessly or with criminal negligence permit a minor to posses alcohol in your home or property  – or
(2) knowing that a minor is in possession of alcohol in your home of premises fail to make reasonable efforts to halt such possession.
A few things to note. This statue applies to anyone of any age.  So often the teen who is hosting the party is arrested for failure to make efforts to stop the other teens from possessing alcohol in their home.  Secondly, you do not have to have supplied the alcohol.  If you are hosting a totally dry party and some teens show up with a six pack of beer under their arm you have to take affirmative action to halt the possession of the alcohol by that minor or you would be in violation of the statute.
The fact that the statute provides criminal liability for those who act with criminal negligence means that it would not be an excuse that you were upstairs sleeping and did not realize what was going on while a house party was going on at your house and failing to provide proper adult supervision to prevent the consumption of alcohol.  Finally, it must be noted that the law does not require that you must be physically present at your home to be charged with a violation of the law.  It should be noted that this is a serious crime.  It is a class A misdemeanor, punishable by up to one year in jail and a $2,000 fine.  The local State's Attorneys are taking these cases very seriously as in the past these have been many serious injuries and deaths that resulted from teen drinking parties in the region.  If you have been charged with the crime of "Social Hosting" or having a "House Party" you should immediately contact an experienced Stamford criminal defense attorney because it is a very serious allegation.
What Should You Do if You Find Teens Drinking at Your Home?
You are required by law to take affirmative actions to halt the possession of the alcohol.  I would suggest that you first attempt to confiscate the alcohol from the teens without getting into a physical confrontation.  If that does not work you should call the parents of the teens and ask them to come immediately and remove the alcohol and the teen from your home.  You should not allow an intoxicated teen to leave your home unless they are taken by their parent or guardian.  If you can not reach the teen's parent and can not get cooperation from the teen without a confrontation you may be forced to contact the police to take control of the situation.
Do Not Make the Mistake Of Providing Alcohol To Minors – it is now a Felony 
In the previous section we have discussed the situations where teens arrive at your home where you may be hosting an alcohol free gathering and THEY bring their own alcohol and the fact that you can face criminal prosecution for failure to halt the possession of alcohol by a minor.
Do not even think about providing alcohol at a party attended by minors at your home.   Under a newly crafted State statute that creates a new class E felony you could face up to 18 months in jail and a $1,500 fine and probation if  you give alcohol to anyone under the age of 21 years old.  Obviously if you have been arrested for violating this statute you should contact our office for a free consultation as soon as possible to review the defense options for protecting your liberty and avoiding a felony criminal record.
Civil Liability for Hosting Teen Drinking Parties 
The new criminal penalties are certainly very serious and make every parent think carefully about how to supervise and control any teen party.  However, even worse then a criminal arrest is the though of some teen being injured or even killed as a result of drinking at your home.  Lots of injuries, overdoses due to combinations of alcohol and drugs and driving accidents do occur as a result of teen aged drinking.  In the cases which I mentioned at the start of this article the teens had fallen down and sustained head injuries.  In addition you can face liability if a teen who drank at your party goes out and causes injury to a third party.
If a teen is drinking at your home and winds up with any injury you can be sure that you will not only face a criminal arrest but you will almost certainly face a civil lawsuit which would have far reaching financial consequences.   In many instances language in your homeowners insurance policy will exclude coverage for any incidents in which alcohol was served to minors.
Conclusion 
So if you or your children have been charged with an violation of one of these statutes such as the so called "Social Hosting" of "House Party" statue or perhaps providing alcohol to a minor in then securing the assistance of an experienced and tenacious Stamford criminal defense attorney could make the difference in having these charges dismissed or reduced.  At the Law Offices of Allan F. Friedman we offer free initial consultations.  Call us today at 203.357.5555  to arrange an appointment to review all the facts of your case and start building a defense strategy.  Our legal fees are reasonable and we offer payment plans.  We are open 24.7.